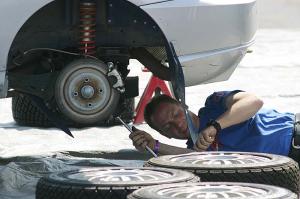 Regions in the South West of England and Scotland are the worst areas for MOT failures, according to new figures released by the AA.
Automyze, the AA's online car management portal has published the results of research into pass and fail rates for a million MOTs undertaken on AA members' cars all over the UK. They found that 53 per cent of cars in the Scottish town of Dundee failed their last MOT, making it the worst place in the UK for MOT failure. The remaining four areas in the top five failure list were Truro, Plymouth, Exeter and Bath.
The results of the research might prompt more car owners to get their vehicles serviced at their local garage, increasing business in the industry. It's always a good idea for garage owners to review and update their motor trade insurance regularly to ensure that all their current stock, equipment, and premises are fully covered.
Interestingly, the vast majority (18 of 20 towns) that had the highest MOT pass rates were in the South East of England, although the very top of the list for MOT pass rates was the Isle of Man, with just 28.8 per cent of cars failing.
Lucy Burnford, Director of Automyze, suggested that regular services could help to reduce MOT failure. She stated: "There could be a number of reasons why MOT failure rates are higher in Dundee, from the length of time people own their cars to the types of vehicle they own.
"However, some basic checks could bring failure rates down and save both time and money. There are multiple reasons why vehicles fail their MOT but the most common are tyres, headlights, and indicators, which can be so easily fixed before the statutory roadworthiness test."