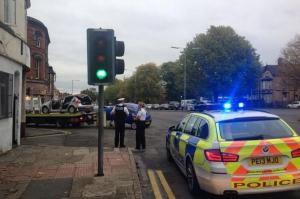 A serious accident in Liverpool has left one motorist in hospital after a crash during a test drive.
The crash occurred on Tuesday 14 October on Rocky Lane in Tuebrook, Anfield between a VW Golf and Ford KA. Sources suggest the driver of the VW Golf was on a test drive with the vehicle. Unfortunately, the incident was such that the Golf had to have its roof removed following the crash.
Accidents like this highlight the need for car dealers to ensure that their combined motor trade insurance policy includes demonstration cover. This protects the business for any damage done to the car and any other vehicles whilst out on the test drive, as long as the motorist has provided a driver's licence and a member of staff is present in the car.
A witness to the crash told the Liverpool Echo: "It looks awful, absolutely horrific. There's ambulances, fire crews and police here. No one knows what's going on, but I think someone's been cut out of a car. I hope no one's been hurt."
There are also reports that damage may have been caused to a nearby house during the incident.
The eastbound section of the road near the Lower Breck Road traffic lights was closed following the crash, causing severe disruption to those travelling out of the city centre.