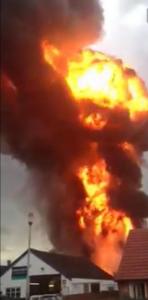 A car workshop in Pangbourne has been destroyed by a large fire that caused the local area to be evacuated.
Police were called to the car mechanics garage in Bourne Road at 6pm on Thursday (15 August). Local roads were closed and nearby residents were evacuated from their homes as firefighters tackled the huge blaze, but the building was completely destroyed by the incident.
With flammable materials commonly held on site at car garages, fires are a very real risk. This is why having comprehensive cover through a combined motor trade insurance policy is so important – this can offer protection for damage to the vehicles held on site, the business' tools and equipment, harm to members of the public or staff, and cover for the premises itself. Furthermore, business interruption cover as part of the package could reimburse the company for a loss of profits caused by a prolonged closure as the result of incidents like this.
According to Berkshire Fire & Rescue, six crews were involved in tackling the fire. The South Central Ambulance Service said paramedics treated one person at the scene but they did not need to be taken to hospital.
The cause of the blaze is not yet known but an investigation has now been launched into the matter.