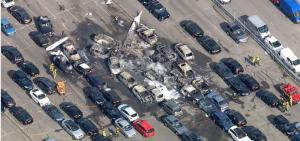 Four people have died after a plane overshot a runway in Hampshire and crashed into a neighbouring car dealership.
The private jet was reportedly carrying Osama bin Laden's stepmother, half-sister and brother-in-law – all three were killed in the crash along with the Jordanian pilot. Eye witnesses say the plane missed the runway and clipped the fence of the British Car Auctions site, flipping over and ploughing into the parked vehicles.
Although far more extreme than most crashes at car dealership, this incident demonstrates how a car dealership or garage must always account for any risks presented by the surrounding area. Whether located next to a runaway, beside a river that regularly bursts its banks, or simply in an area with a high crime rate, a business must consider local risks when obtaining a combined motor trade insurance quote.
Andrew Thomas, who witnessed the incident at the Hampshire car lot, told the BBC: "We saw the plane in flames, and that quickly spread to the cars around it. The cars are packed very tightly there. When the plane first came down, perhaps four or six cars were on fire, but that quickly spread to perhaps 50 or 60 cars. Every minute or so you could hear another car exploding.
"The airport's small fire truck was there quickly, but the trouble was the cars are packed so tightly. When the fire brigade arrived, they put the fire out quite quickly."
Hampshire police have since confirmed that the passengers in the jet were the stepmother Rajaa Hashim, sister Sana bin Laden, and brother-in-law Zuhair Hashim of former al Qaida leader Osama bin Laden, who was killed by US special forces in Pakistan in 2011. They were holidaying in the UK.