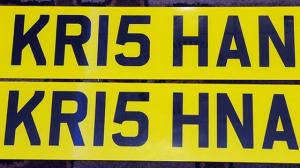 The number plate KR15 HNA has set a new British record by selling for £233,000 at auction.
The DVLA sold the registration to a London businesswoman who did not wish to be named. She won the item after a fierce bidding war at the Casa Hotel in Chesterfield, with a group of potential buyers keen to get their hands on the plate which spells out Krishna, the Hindu deity. KR15 HAN also sold for £98,500 at the three-day auction.
Popular number plates such as this can often be worth more than the vehicles they are attached to. For car dealerships, it is worth bearing that in mind as they get protection for their assets as part of their combined motor trade insurance policy – it is of utmost importance that high value goods such as this are protected against damage and theft.
KR15 HNA broke the DVLA's previous record for a current-style personalised registration, which was set in April 2006 when MR51 NGH sold for £100,000. The number plate 25 O became the most expensive personalised registration ever auctioned in the UK when it sold for £518,000 in November 2014.
Matthew Dainton, of DVLA Personalised Registrations, said: "We had high hopes for KR15 HAN and KR15 HNA after a lot of interest being registered beforehand. Both of these current style registrations contributed to an enthralling atmosphere in the auction hall, and it's fantastic to see the prices they have achieved."