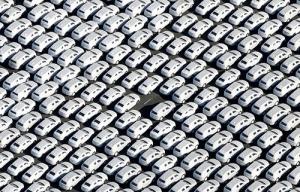 The Society of Motor Manufacturers and Traders (SMMT) is calling on the government to reach an interim deal with the European Union following Brexit in order to prevent the motor industry from "falling off a cliff edge".
According to SMMT, the plan for the interim arrangement would be for the UK to retain its membership of the customer union and single market while the final Brexit deal is put in place, with a focus on addressing both tariff and non-tariff barriers, as well as regulatory and labour concerns.
Commenting on the calls, SMMT's chief executive Mike Hawes said: "We accept that we are leaving the European Union and we share the desire for that departure to be a success. But our biggest fear is that, in two years' time, we fall off a cliff edge – no deal, outside the single market and customs union and trading on inferior WTO terms."
He added: "That's why we have to be honest with ourselves. If the UK cannot secure – and implement – a bespoke and comprehensive new relationship with the EU in two years' time, we need a back-up plan. Having looked at all the alternatives, we need government to seek an interim arrangement whereby we stay within the single market and customs union until that new relationship is implemented."
Car dealers are also being urged to prepare for the impact the Brexit could have on their business, including reduced access to new cars or the introduction of different legal obligations. As part of this process, car dealership owners should ensure they regularly update their motor trade insurance policy to keep their assets secure in the near future.
In response to these calls, Close Brothers Motor Finance's chief executive James Broadhead pointed out that the motor industry remains one of the most important in terms of its contributions to the British economy, turning over a record total of £71.6 billion last year alone.
However, Mr Broadhead added that it was easy for car dealers, industry experts and government departments to be lulled into a false sense of security in light of these impressive figures, which could result in serious issues for the sector as Brexit negotiations unfold.
He added: "Despite having been an undeniable growth industry in recent years – with seemingly endless records set for car registration numbers – it's difficult to dispute that we are entering into uncertain times for our industry, especially now Brexit discussions are under way."