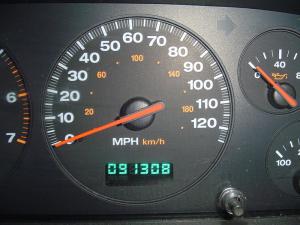 A car dealer from St Helens has been jailed for clocking cars and then selling them online.
Stephen Appleton bought used vehicles at car auctions and then tampered with their mileage before listing them for sale on eBay. He appeared at Liverpool Crown Court earlier this month after a customer contacted trading standards when they discovered the car they bought had, to their surprise, been listed as a damaged vehicle.
Fraudulently obscuring the true history and thus value of vehicles is not just an issue when selling to the car buying public, it can also cause problems when trying to obtain a motor trade insurance policy; brokers and insurers will ask at the inception of a traders policy if any owners or directors have criminal convictions to disclose and this can be used as a judge of trading history. Running into trouble with the law over these illegal practices can, therefore, have serious implications when it comes to getting the necessary business insurance in the future.
According to the Liverpool Echo, Mr Appleton had a record of similar offences. When investigators from St Helen's council raided the 45-year-old's home they found stamps that had been used to create fake service history documents.
At court the judge heard that a BMW Z4 was sold as having 59,000 miles on the clock when in fact it was nearer to 149,000, while an Audi A4 was sold as having done 52,000 miles when it had actually travelled 133,000. Over the course of three-and-a-half years Mr Appleton's car clocking had cost customers almost £30,000.
Judge Thomas Teague, QC, jailed Mr Appleton for 21 months. He commented to the guilty man: "You appear to have regarded your customers as fair game in the sense that they knew or ought to have known that mileage could not be guaranteed. That is a cheek coming from someone who has gone to such considerable lengths to misrepresent that mileage to customers."