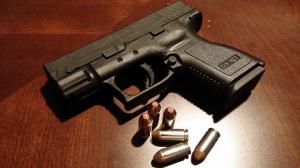 A used car dealership in Ohio has launched a new deal in which any customer who purchases a vehicle worth $4,995 or more gets a free gun.
Jerry and Diane Kilgore, co-owners of Kilgore Auto Group, are the pair behind the marketing ploy, with the couple offering vouchers for a nearby gun store which motorists can use towards a handgun. Mr Kilgore believes there is nothing wrong with the initiative, saying: "It's not like we're stockpiling guns in the back and handing them out."
Whatever tactics a company uses to attract customers onto its premises, it is essential that they have public liability cover as part of their combined motor trade insurance policy. This is a requirement of any customer-facing business and will protect the trader should an accident involving a member of the public take place on the premises, something that could be more likely with the introduction of firearms.
Mr Kilgore explained that he wanted to promote a company he knows and which conducts thorough background checks before issuing guns to members of the public. He also believes that people need to proactively look to protect themselves against the threats they may face in their lives.
He commented: "Unfortunately there are criminals out there and we should have the right to defend ourselves… I'm here to sell vehicles. Whatever promotional tools we can use married to my own personal beliefs is just a bonus."