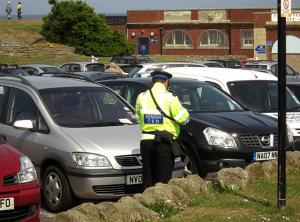 Car dealers in Leigh have been targeted by authorities amid claims they have been using street parking bays for vehicles they are selling.
Traders in London Road complained that nearby dealerships were using parking areas for their customers as a forecourt, the Echo News reported. Martin Terry, Southend councillor responsible for transport, said the dealers were "taking the mickey", adding that wardens would be on hand to sort the problem from this week onwards.
The problem of dealerships parking their stock on the streets is not only that it is an inconvenience for local residents and businesses, it is also an issue when it comes to the dealerships' motor trade insurance. To have cover for its vehicles, a dealer will need to keep them stored on its business premises lest the protection from its combined motor trade insurance policy become invalid.
John Clarke, 59, a contractor who works in the area, said parking has become a real problem in the area because of the dealerships using up all the available parking. He commented: "It's absolutely appalling, but they get away with it.
"Often I travel on London Road and see cars with prices in the windscreen left on yellow lines or the pavement.
"At the weekend I counted nearly 30 cars on yellow lines, in bays and one on the pavement, and none of them got a ticket – it's not a level playing field."