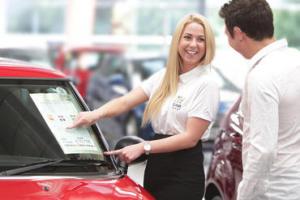 CarShop, one of the UK's largest car supermarkets, has announced record profits of £5 million for 2015 — a stunning year-on-year increase of 113 per cent.
The growing business, which was founded in 2009 and has outlets in Cardiff, Doncaster, Northampton, Norwich and Swindon, broke its previous profit records with the latest pre-tax figure. Turnover also increased from £195 million in 2014 to £209 million last year.
Jonathan Dunkley, the chief executive of CarShop, listed four areas where the business had improved over the last year or so: increased investment in data and insight; an aggressive vehicle acquisition strategy; embracing digital technologies and the extension of its core values to all operations within the business.
If your business has embraced online marketing techniques in much the same way as CarShop, it's still important to offer clients a good experience in the showroom. In addition to your general motor trade insurance, be sure that you also have good levels of demonstration cover to provide test drives.
Mr Dunkley told Car Dealer magazine: "Data and digital is at the heart of what we do now. It's well embedded into our culture. Our goal has been to ensure that we are the best car shop in town, and this culture is firmly embedded in to all of our behaviours and competencies.
"The way that we now listen to and look after our customers has allowed us to develop and improve our customer journeys and processes.
"Our colleagues have really bought into the best car shop in town vision, and it's our 552 hard-working and dedicated team members that have brought this strategy to life. We're very proud of our people and the transition that's taken place."