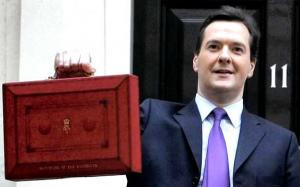 The Chancellor George Osborne has praised the motor trade industry for its pivotal role in the UK's economic recovery.
Making his last Budget announcement before May's General Election, the Chancellor said that Britain was "walking tall" once again, with the economy growing by 2.6 per cent and employment hitting record highs. He added that the automotive industry, which has seen new car sales increase for 36 consecutive months, is a key success story is this post-recession recovery.
His praise is one thing but naturally the industry will be more interested in future policies that could determine how much money ends up in their pockets. It is not only their own expenses – such as a road risks insurance policy – that will dictate a car dealer or mechanic's profits; how much money consumers have to spend on their products and services is also key, which makes the Budget of utmost importance to these business.
Osborne announced on Wednesday 18 March that minimum wage would go up by 20p an hour to £6.70 from October. The hourly rate for younger workers will also rise, and for apprentices it will go up by 20 per cent – or 57p – to £3.30 an hour. He also said that the government will be making a £100 million investment to help the UK "stay ahead in the race to driverless technology".
ASE chairman Mike Jones said: "The combination of economic growth and the Budget's objective to boost consumer confidence in the run up to the election is positive for the motor industry."
Mike Hawes, SMMT chief executive, added: "The £100 million injection into connected car research, development and testing – to be matched by industry – will provide a vital boost to the UK automotive industry and put us ahead in the global race to build the cars of the future."