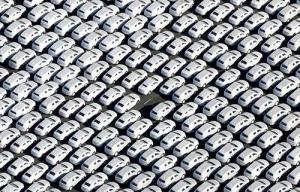 Figures recently published by the Society for Motor Manufacturers and Traders (SMMT) show that commercial vehicle production increased by 13.8 per cent in May, with much of the increase in demand coming from the UK.
Demand for commercial vehicles in the UK increased by 25 per cent, while demand for the export market also increased by an impressive 5.7 per cent — reflecting the continued recovery of the European economy and the continued importance of this market to the UK car industry.
As the commercial vehicle market continues to improve, dealerships may be adding more lines to their offering. It's vital that their motor trade insurance and road risks insurance policies are kept up to date to cover all new stock, so dealership owners need to review their insurance cover regularly.
New commercial vehicle registration was found to be increasing by 16.4 per cent in Europe in May. For the year to date, as a whole, production in this sector was up by 2.7 per cent.
Mike Hawes, the chief executive of the SMMT, said: "It's good to see UK commercial vehicle (CV) manufacturing performing strongly in May, which puts it on track for a positive 2016. The commercial vehicle market is linked to economic confidence in the UK and Europe, with 88 per cent of UK-built CV exports shipped to the continent last year."
He took the opportunity to reiterate the importance of striking a trade deal with European following the Brexit vote on 23 June 2016. "For this performance to continue, we need to ensure we maintain free access to our main markets as well as pursuing new global opportunities," Mr Hawes added.