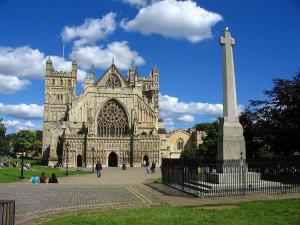 Exeter has emerged as the new 'European hub' for car dealerships, data has suggested.
According to the global real estate company Colliers International, motorists in Exeter have a better choice when it comes to buying a car than anywhere else on the continent. Between the areas of Matford Green and Marsh Barton in the south of the city there are over 30 different dealerships, making it the most densely packed region for motor traders, the Exeter Express and Echo reported.
The local competition will always be a key consideration for a car dealership looking to open up a new premises in a particular area. But as well as which rivals are operating nearby, a company must also factor in the implications of location on its combined motor trade insurance quote; the crime rates and potential flood risks associated with an area could see the price of an insurance policy rise or fall accordingly.
While increased competition might appear at first glance to be a bad thing, Colliers states that the high density of dealerships in Exeter actually draws in far more potential buyers, thereby allowing the region as a whole to thrive.
Will Jolly from Colliers International's Automotive and Roadside team stated: "Exeter has become the hub for dealership operations in the South West and now comprises the biggest grouping of facilities in Europe with more than 30 different manufacturers represented within a 1.5 mile stretch at Matford and Marsh Barton."