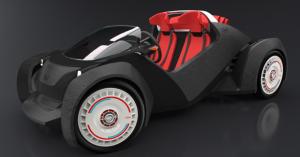 The world's first ever 3D printed car has been created and taken for a test drive at this year's Detroit Motor Show.
The vehicle, dubbed the Strati, was built in collaboration between US company Local Motors and Sabic Innovative Plastics. Consisting of 212 layers of plastic, the concept car runs off a battery and uses a suspension made by Renault.
Cars created by 3D printers could signal a new trend for the automotive industry and could have some implications on businesses' motor trade insurance policies in the future. Not only will firms needs to have a road risks insurance policy that will enable them to drive this new type of vehicle, but companies will also need to obtain cover for 3D printing machinery if they plan to use them to create parts or entire vehicles on site.
The Strati takes roughly 44 hours to put together at present but the manufacturers hope the fully-recyclable car will be able to be constructed in just 24 hours by the end of the year. The goal is to then reduce this time further to between 10 and 12 hours.
Weighing 18,000 pounds, the concept car has a top speed of 25 miles an hour and can carry two people. Once created the Strati is expected to last for around five years.