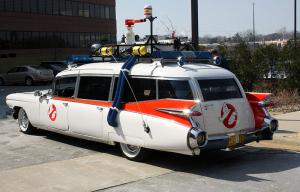 A Surrey-based car dealer has put a replica of the iconic car from the Ghostbusters movies up for sale.
Milton Homan, who owns Dream Cars in Redhill, has listed the Cadillac on eBay for £175,000 but claims he has done so "with a heavy heart", according to Get Surrey. The 56-year-old originally bought the vehicle in the Netherlands five years ago when it was being used as an ambulance before then styling the car to resemble the Ghostbusters Ecto-1 as seen being driven by the likes of Bill Murray and Dan Aykroyd.
Vehicles like this will not pass through the showrooms of car dealerships very often, but for any individual or business that is handling classic cars like this they will need to make sure they have the right type of traders insurance in place. Motor traders can acquire a specialist road risks insurance policy should they be repairing, maintaining or servicing vehicles – those working on vintage, classic and high performance vehicles may require more specialist policies as they are often more valuable and present unique risks.
Pedestrians have marvelled at Mr Homan's Hollywood replica as he drives it down the streets. Indeed, he stated: "If I had a pound for every photo that has been taken with it, I wouldn't have to be selling it now."
If potential buyers are put off by the steep asking price, then it is worth noting that the sale also comes with a 10-metre-tall inflatable Stay Puft Marshmallow Man.
Mr Homan says that the car has mass appeal but he really hopes that the eventual buyer shares his love of the 1984 hit film and keeps the 55-year-old vehicle in the great condition it currently is in.