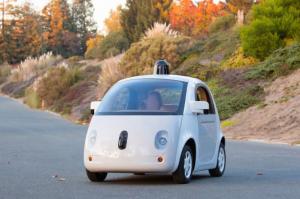 Most people spend the Christmas period gorging on too much food and drinks. Some will have already hit the sales – perhaps a few mechanics and car dealers have even indulged in some last minute shopping for a sparkly new road risks insurance policy for the year ahead.
For Google, however, the festive season has been spent testing its new driverless cars. On Christmas Eve the search giant unveiled its new driverless vehicle and has since spent the past week putting it through its paces on the road.
Revealing the details on its website, Google said: "We're unwrapping the best holiday gift we could've imagined: the first real build of our self-driving vehicle prototype (pictured).
"The vehicle we unveiled in May was an early mock-up – it didn't even have real headlights! Since then, we've been working on different prototypes-of-prototypes, each designed to test different systems of a self-driving car – for example, the typical "car" parts like steering and braking, as well as the "self-driving" parts like the computer and sensors."
Google went on to say that it would be spending the holidays "zipping around our test track".
The motor trade industry will, as ever, be keeping a watchful eye on developments in the driverless car market, which looks set to revolutionise the industry in the coming decade. Indeed, in the UK the government has recently announced that four towns – Greenwich in south London, Bristol, Milton Keynes and Coventry – are going to be involved in a £19 million trial of driverless cars in 2015.