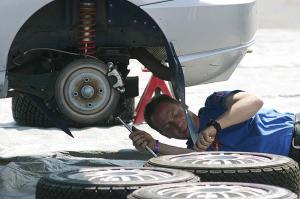 A car mechanic in Scotland has been hailed as a hero for coming to the rescue of a young girl trapped in a car.
Charlene Johnstone was preparing to take daughter Charlie to her aunt's house when the car door suddenly shut with the mum outside and the 11-month-old child and keys automatically locked inside. Having called the emergency services the fire brigade came and said they would have to smash the window to get the child out but the mother opted to first call Farmer's Autocare – where she has recently had her car serviced – to see if they could help.
Mechanics will often have to respond to house calls such as this as part of their day-to-day business, albeit rarely with a child stuck inside the vehicle in question. Mechanics will also be required to drive other people's vehicles to and from the garage on a regular basis – this is why a road risks insurance policy is so important to ensure the driver has insurance cover when driving a large number of different vehicles.
Farmer Autocare employee Marc Dickson responded to the call and jumped in his van and quickly came to the aid of mother and child. Fife Today reports that by using a mini airbag and a bit of brake pipe the mechanic was able to free the child; he placed the airbag into the gap of the door and inflated it, creating enough room to insert the brake pipe and wedge the door open.
Mr Dickson's colleagues have reportedly joked about buying the mechanic a superhero cape for Christmas while the manager of the Kirkcaldy business Alan McPhee remarked: "We're Farmer's Autocare – the fourth emergency service!"