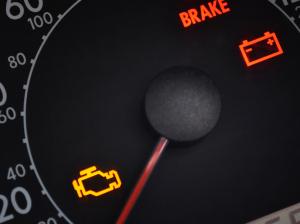 Motorists ignoring their car's warning lights causes 827,000 breakdowns in the UK every year, new research has found.
According to a survey by an insurance firm, the most common reason for drivers needing to call for roadside assistance is that they ignore the warning light telling them that their car is running out of petrol. Most motorists reportedly believe they can eek out more miles on the remaining drops of petrol than is possible, or continue driving as they hunt for the cheapest petrol prices, which can eventually leave them stranded.
Many motorists admitted to either not trusting or not understanding what the warning lights in their car mean. The safest option is take it to a garage where a mechanic can assess the problem – with a road risks insurance policy a mechanic can test drive customers' vehicles to find where faults might lie.
The research of 1,500 motorists by LV= found that the number of breakdowns being caused by people ignoring the little warning lights on their dashboard has trebled since 2011, something prompted by the rise in petrol prices in recent years.
The results revealed that a quarter of drivers believe they can eke out at least another 40 miles when the petrol warning light is showing. Two million drivers even admitted to driving with the warning light on almost permanently, mainly in the hope of finding cheaper fuel.
On average, the fuel light comes on in a car when it has 38 miles left in the tank.