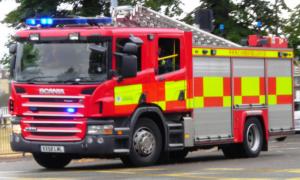 A fire has hit a car garage in Kilmarnock, Scotland, causing the property to begin to collapse as firefighters struggled to bring the blaze under control.
Emergency services were called to MobiTyre in the middle of the night last week (30 June) to tackle the fire. They entered the building wearing breathing gear but as the walls began to cave in, they were forced to retreat.
Some 15 hours later, the team finally managed to bring the fire under control, but not until the majority of the roof had collapsed and the building was left with serious smoke damage.
Fortunately nobody was injured in the fire but MobiTyre will be left with a hefty bill to get their building back into shape. This is exactly where a motor trade insurance policy can help cover costs, not only in rebuilding, but also in covering lost income if trade is affected during the clean-up job.
A spokeswoman for the Scottish Fire and Rescue spoke to STV News about the extent of the blaze: "Firefighters were met with a well-developed fire and the three fire engines which attended called for more assistance. Thirty-five firefighters attended in total and some were called out of the building after the structure started to collapse.
"The fire spread laterally and around 75 per cent of the roof collapsed. There was also a partial collapse of the external walls."