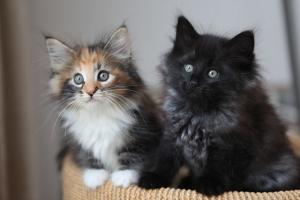 Two kittens have been accidentally towed 87 miles to a car garage while trapped in a broken down car.
Originally named Tom and Jerry, the kittens, who are eight weeks old, were in a car that had all its windows smashed when it was dragged by a tow-truck from Swindon in Wiltshire to Bridgend in South Wales. Workers at Robertson Transport Services, the company that towed the car to the Welsh car garage, said it was a "shock to find them", adding that the kittens had been handed over to the RSPCA.
Car repairers will often need to drive customer's cars to and from the garage, assuming they are in a condition fit to drive. To do so, mechanics will need a road risks insurance policy, which provides insurance cover for customers' vehicles they are driving in case they should be involved in an accident while behind the wheel.
RSPCA inspector Julie Fadden said the kittens – nicknamed Tom and Jerry because of their "adventure" – had "somehow got into the car and stayed in it".
She added: "Both were terrified and I had to use a trap to catch them, but they are fine."
The RSPCA is attempting to find the kittens' owners but said that should it not find them it will re-home the pets.