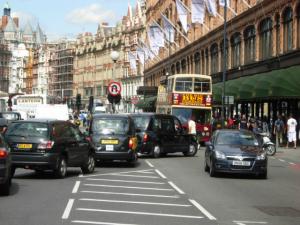 From 2017, diesel car drivers visiting London will have to pay a £10 per day charge in an attempt, by London mayor Sadiq Khan, to reduce pollution levels in the capital.
After stating that almost 40,000 Brits are dying early each year from pollution-linked causes, Khan announced that drivers of cars classed at pre-Euro standard 4 or registered before 2005 will be charged the hefty penalty. As a result, around 9,000 drivers are expected to be hit with the new charge each day if the policy is adopted.
Diesel cars are expected to be particularly affected by the extra levy, which could increase the popularity of low-emission petrol cars, particularly among buyers in and around London. Car dealerships may wish to respond to this trend by upping the number of petrol cars they offer in their showrooms. In response to any change in stock, dealers need to update their motor trade insurance and road risks insurance policies to ensure all new stock is adequately covered.
Affected drivers actually living in London will be given a 90 per cent discount, but they will still see their annual bills skyrocket as a result of the new plan.
Mr Khan also announced plans to bring forward the launch of an ultra low emissions zone from 2020 to 2019. The plan will see that every vehicle driven in the central London zone will have to meet minimum standards or will have to pay a whopping £12.50 daily charge.
The Society of Motor Manufacturers and Traders (SMMT) stated that the industry is now acting to give consumers even more choice when it comes to lower-emissions vehicles, helping drivers to opt for cleaners cars without breaking the bank.