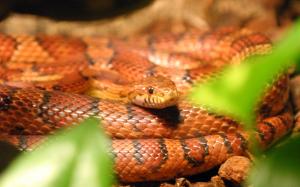 A man in Taiwan has sold his car after being unable to find a snake that he spotted in the glove box.
The motorist, who is only known by his surname Chen, spotted the reptile's tail poking out when his wife opened the glove box. He then searched the car to try and find the animal but when this search proved unsuccessful he resorted to more extreme measures: sell the vehicle.
Mechanics must have been left scratching their heads when given the keys to a snake-infested car – after all, their road risks insurance policy might not cover any accidents caused by a rogue reptile slithering across the dashboard.
The fire department even doused the vehicle in special chemicals and took the glove box apart but spotted nothing. Nevertheless, Mr Chen was sure the snake was still in the car. He took it to another local dealership where he requested they dismantle the car, but then changed his mind and decided the easiest thing to was to put it up for sale.
According to the Teipei Times, Mr Chen at first pretended not to have seen the snake so as not to alarm his wife and daughter who were also in the car. He said that although the second-hand car that he bought nine years ago was not expected to fetch much, all that mattered to him was the safety of his family.