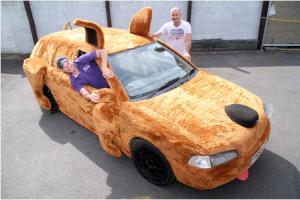 A car mechanic from Croydon has built his own version of the iconic dog car from Dumb and Dumber to take part in the Boom Banger Rally.
The road trip to Istanbul in Turkey is designed for old, rundown or strange cars so Andy Stiff, a mechanic at A&J Repairs, has decided to recreate the Mutt Cutts vehicle as driven by Jim Carrey and Jeff Daniels' characters in the hit 90s comedy film. Together with his friend Roger Doswell, Mr Stiff will be raising money for Cancer Research UK and will be hoping to bag the £100 prize for the best dressed car.
Working as a mechanic will require Mr Stiff to get behind the wheel of all sorts of cars on a daily basis, although not many come complete with a furry outer lining. Nevertheless, it is imperative that mechanics are covered by a road risks insurance policy, which will offer financial protection in case the cars they are driving are involved in an accident.
Mr Stiff and his friend spared no expense in their efforts to create their very own Mutts Cutts car, which is actually a Volvo V40 underneath all that fur; the vehicle can even cock its leg to 'pee' on lamp posts and spray water from its nose, the Croydon Advertiser reported.
"It's good because it makes people laugh and smile, and that's what it's all about," Mr Stiff said.
Their 1,800 mile journey will begin in Dover on Friday (3 July), with stops planned in France, Switzerland, Italy, Croatia, Albania and Greece along the way.