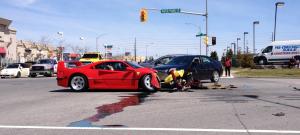 A mechanic driving a Ferrari back to a garage in Ontario, Canada has been involved in a collision at a set of traffic lights.
On its way back from a test drive, the Ferrari F40 was hit by a Dodge Dart as the latter ran through a red light and went straight into the Italian super car. Neither driver was seriously hurt but both vehicles were significantly damaged in the incident.
Any motor trade company that is involved with collecting or dropping off vehicles must ensure they have the necessary insurance cover for this. If you drive cars which do not belong to your business then a road risk insurance policy will offer you the right cover to make sure the costs will be covered, should an accident such as this happen to one of your staff. Moreover, as the vehicle was on the roads for a test drive, this story also illustrates the value of having demonstration cover as part of a motor trade insurance policy, something that would provide protection during test drives.
The picture of the accident was captured by Matthew Berenz and posted on The Garage Blog.
Ferrari only made 1,315 units of its F40 model between 1987 and 1992, making the vehicle extremely rare and unsurprisingly expensive. The Garage Blog states: "Originally retailing for about $400,000 when they were new, some recent sales have topped $1million with reports of prices reaching as high as $1.6million."
As well as having sufficient cover for operating other people's cars, this story also illustrates the need to have an additional policy for rare, vintage or high performance vehicles as part of your motor trade insurance; the higher costs associated with these cars could require more substantial cover.