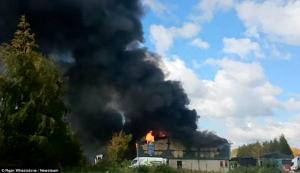 A car garage explosion has sent debris and smoke hundreds of feet into the air, with one witness describing it as a "miracle" that no one was hurt.
The blast took place last week at Commercial Vehicle Repairs on the Rotherwas Industrial Estate in Hereford. The explosion is believed to have taken place when gas canisters caught fire as eyewitnesses reported seeing gas bottles, shredded tyres and chunks of metal exploding into the air, as flames spread across the premises, the Daily Mail reported.
Motor trade insurance policies are designed to protect car garages from the risk of fires, which are more common on these premises because of the flammable and explosive items stored on site. By having this business insurance in place a firm can ensure it has financial cover to replace or repair things that are damaged in a blaze, including the company's tools, stock, vehicles, customers' cars, equipment and the building itself.
Following the blaze at Commercial Vehicle Repairs the nearby businesses had to be evacuated amid fears further explosions could take place.
Joe Rollinson, 32, who works nearby, said: "I was just making a delivery when I heard a massive explosion followed by a lot of commotion on the estate.
"I looked over and the first thing I noticed was the black smoke billowing from the building but then I could see big flames too. After a little bit there were lots of popping sounds and you could see what looked like gas bottles exploding into the air. It is a miracle no one was seriously injured."