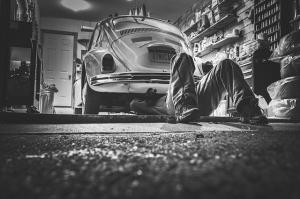 Drivers may have had an extra spring in their step this weekend after hearing the news that the government could extend the MOT exemption period for new cars from three to four years from 2018.
The plans are in the consultation stage, but could mean drivers in England, Wales and Scotland no longer have to take their new vehicle in for an MOT after just three years. Despite the proposed changes, Transport Minister Andrew Jones pointed out that regular maintenance and servicing can help to prevent the small problems that can lead to cars failing their first MOTs.
"Almost half of faults found during all MOT tests could be avoided by carrying out simple checks and maintenance, including replacing bulbs, checking tyres and oil as well as ensuring windscreen wipers work," said the government, in consultation with the Driver and Vehicles Standards Agency (DVSA).
The main reason behind the proposed extension is the argument that new cars are far safer these days and stay roadworthy for longer before an MOT is necessary. "We have some of the safest roads in the world and MOT tests play an important role in ensuring the standard of vehicles on our roads," commented Mr Jones.
He added: "New vehicles are much safer than they were 50 years ago and so it is only right we bring the MOT test up to date to help save motorists money where we can." Indeed, the change could save drivers around £100 million per year.
Those running garages and MOT centres across the UK can rest assured that the new proposals, while possibly reducing MOT business slightly, may spur new car owners to invest in regular maintenance and servicing. Remember that taking out road risks insurance is a minimum requirement for businesses working on cars. It covers you for any damage caused to vehicles you don't own while you are driving them for business purposes.
The government underlined the importance of road-worthiness in its statement announcing the extension plans, which could further prompt drivers to take their cars in for regular check-ups at their local garage. "It is a legal requirement that all vehicles are roadworthy, regardless of whether they have passed an MOT test and the content of the tests will not be changed," it stated.