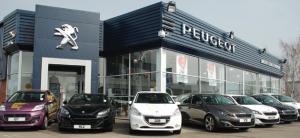 Expanding Scottish car dealer, the John Clark Motor Group has created 53 jobs with the opening of a new dealership in Aberdeen.
The business has invested £180,000 in the new Peugeot showroom, which is the second new dealership it has opened in the city in six months. Its Audi centre, which opened for business in October, created 22 new positions.
If you are opening a new dealership or expanding your existing premises, a good insurance policy should be top of your agenda. Make sure you have the right motor trade insurance and road risks insurance for the size of your business and to protect the fabric of the building as well as its contents.
The new John Clark centre in Aberdeen has a showroom and a workshop for repairs and services. The business also covers mobility vehicles.
Group managing director Chris Clark told the Aberdeen Press & Journal: "It's a very exciting time for the team, the new specialist cars dealership has been in development for some time.
"Our team has worked incredibly hard to create such an impressive facility and this will help us to fulfil our vision to deliver the best level of service and expand the Peugeot vehicles available to Aberdeen customers."
It's hoped the new jobs will help offset those lost in the area due to the downturn in the oil and gas industry, which is a major employer in Aberdeen and has been affected by plunging oil prices internationally.
In addition to the Audi and Peugeot dealerships in Aberdeen, John Clark has outlets in Cupar, Dundee, Dunfermline, Edinburgh, Elgin, Kirkcaldy and Perth. It sells brands including BMW, Jaguar, Land Rover, Mini, Seat, Skoda, Volkswagen and Nissan.
The company, which has been established for more than 35 years, recorded a £604 million turnover in 2014 when it sold 24,000 cars.