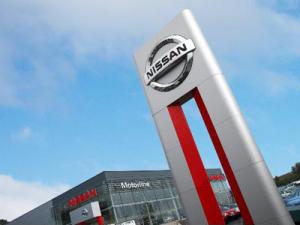 Nissan GB has made use of technology that is almost 200 years old to create a solution for reducing smartphone distraction behind the wheel.
The Nissan Signal Shield is a new prototype compartment that fits within the armrest of a Nissan Juke and is lined with a Faraday cage, an invention dating back to the 1830s that blocks all of the phone's incoming and outgoing cellular, Bluetooth and WiFi connections to create a 'silent zone'.
According to Nissan, the brand-new take on an old concept is designed to give modern drivers the opportunity to choose whether they want to eliminate the distractions caused by the millions of text messages, social media notifications and app alerts that are 'pushed' to smartphones every day.
Figures from RAC have revealed that driver distraction caused by mobile phones is a growing problem, with the number of drivers who admitted handling their phone in the car increasing from eight per cent in 2014 to 31 per cent in 2016.
According to RAC, the problem lies in many users becoming habitually tempted to check notifications as they appear on the screen of the phone, even if they are behind the wheel. In fact, Nissan's research found that almost one in five drivers admitted to having texted behind the wheel.
As changes to modern lifestyles begin to alter the way we use vehicles, many manufacturers are beginning to update their in-car offerings to cater for driver needs. Car dealers should ensure they regularly update their motor trade insurance policy to make sure they take into account any new on-board technology that could increase value or alter the driving experience.
Commenting on the addition of the prototype to the Juke, Alex Smith, Managing Director, Nissan Motor GB Ltd. added that the firm is continually seeking new ways to improve the wellbeing of its customers, and addressing mobile phone use is a key issue on modern roads.
"The Nissan Signal Shield concept presents one possible solution for giving drivers the choice to remove all smartphone distractions while driving. This is about delivering more control at the wheel, not less," Mr Smith added.
"Some drivers are immune to the activity of their smartphone, but for those who struggle to ignore the beeps and pings, this concept provides a simple solution in this very 'connected' world we live in."