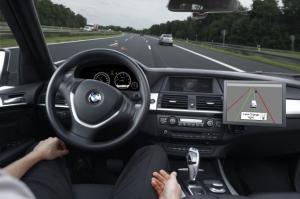 More than one in four drivers (26 per cent) would feel happy sleeping in a car with autonomous technology while travelling, according to new research conducted by Whatcar.com.
The study revealed that drivers would also be comfortable chatting to fellow passengers, browsing the internet and watching television while allowing the car to pilot itself.
Around 32 per cent of the 900 respondents revealed that they felt motorway journeys would be the best type of travelling in which to have a self-driving car, while 49 per cent said they would relinquish control of their car in a traffic jam.
The prospect of autonomous cars in the UK car market has prompted much interest from drivers, but many are still concerned by their accuracy. As self-driving cars make their way onto British roads it's important for car dealers to remember to regularly update their motor trade and road risks insurance, ensuring potential owners are covered when they take their first test drive in these futuristic automobiles.
More than half of new cars sold already have autonomic safety technology on board, but several manufacturers including Ford and BMW have now revealed they are working on completely driverless cars. Similarly, Nissan and Renault have revealed plans to have at least 10 fully autonomous cars on the road by 2020.
Commenting on the results of the study, Jim Holder, editorial director at Whatcar.com, stated that there is clearly a way to go before the concept of autonomous cars is fully adopted by the UK public, suggesting that safety concerns were firmly in the mind of road users.
"Half the drivers we talked to would feel happiest allowing their car to take over in a traffic jam, when the risk is minimal, while hardly any of them would feel safe letting their car guide them along urban and country roads," he added.