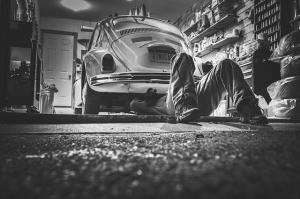 One of the oldest car garages in the UK is due to reopen its doors later this month after being closed for over a year.
Towcester Garage, which dates back to 1908, is going to reopen for business on 29 September under new ownership. Steve Fowle, who already runs Silverstone Garage, decided to restore the Northamptonshire repair shop back to its former glory, ploughing hundreds of pounds into treating the woodwork and building a reception area with counter and TV ahead of the re-launch.
Among the considerations Mr Fowle will need to make as he prepares to open the garage's doors once again will be getting a combined motor trade insurance policy that covers all the business' needs. This will include cover for the vehicles, tools, equipment and people on site, as well as protection for the newly refurbished premises.
Speaking to Buckingham Today, Mr Fowle, who has 30 years of experience in the motor trade industry, explained that he drove past the vacant site everyday while taking his son to school before approaching the owners to take it off their hands. He said: "I kept thinking it's such a shame until one day I thought, you know what, I'm just going to go and see them.
"They were quite happy for the lifeline as it was just getting more and more rundown… It was once a brilliant garage."
When it opens next week the garage will carry out MOT tests and repairs to any make or model of car and small vans.