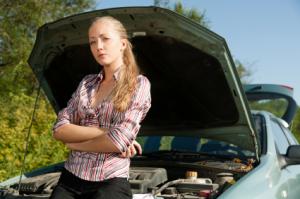 A new survey, which questioned 2,000 members of the British public, found that more than half of drivers lack the basic skills necessary to change a tyre on their car.
The survey, which was carried out by Tyre Shopper, asked people about their basic skills when it comes to fixing problems with their cars and bikes, as well as some home maintenance jobs. Some 53 per cent of drivers admitted to not being able to change a tyre, while 51 per cent said they did not even know how to check the coolant in their car.
These seemingly alarming figures probably won't actually surprise too many garage owners, who are asked to undertake these simple maintenance jobs for drivers with punctures or overheated engines on a daily basis. And in fact, most probably welcome the extra business!
However, garages and MOT service centres would advise drivers to undertake regular checks of water levels, tyre pressure, oil and other basic elements to prevent damage to their car and to ensure the engine is healthy between MOT and servicing checks. Carrying out these simple checks will also ensure cars are roadworthy and therefore safe to drive.
It seems the lack of basic maintenance skills is most profound among the youngest generation, with the 18-25 year old category performing particularly badly. The tendency for young people to stay living at home with their mum and dad, or renting homes instead of buying, is proliferating the problem, according to the survey.
Some 30 per cent of young people said they ask their dad for help with such matters as a first port of call, closely followed by the 29 per cent who said their first instinct is to 'Google it.' Mothers only get a second thought from around 15 per cent of young people hoping for guidance on car and home maintenance issues, however.
Anyone running an independent garage or MOT centre must ensure they are fully covered by their motor trade insurance policy to enable them to keep their business going, even if costs arise as a result of fire, theft or vandalism, for example. Providing continuity of business to clients is an important part of providing excellent customer service.