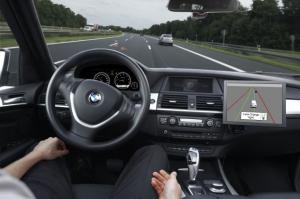 More than half of drivers in the UK have said they would purchase a self-driving car, new research has indicated.
According to car supermarket Motorpoint, of the 1,350 motorists questioned 59.1 per cent said they were happy to jump onboard with driverless technology. A number of manufacturers are in the process of creating a vehicle that can drive itself, while the government has announced that a trial is current taking place in four cities across the UK to see how viable self-driving cars would be on British roads.
For car garages and dealerships, the introduction of self-driving cars could spell a dramatic change for their business. Not only will the stock they work with change, but they could also be forced to amend their road risks insurance and motor trade insurance policies to ensure they are fully covered to drive and store these vehicles.
BMW, Mercedes, Volvo and Google are among the car-makers that are trialling models at the moment.
Mark Carpenter, managing director of Motorpoint, commented on the findings: "It is clear from all the reports coming out of car manufacturers that it is only a matter of time before we see cars on UK roads that not only drive themselves but park themselves – something which motorists clearly welcome based on the results of our poll.
"Although there are still issues to address, such as who pays if the system fails and you have a crash, driving and the cars we drive are going to change like never before in the next few years thanks to advent of exciting new technological advances."