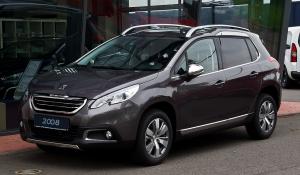 The Peugeot 2008 was the fastest selling vehicle on the forecourts of UK used car dealerships in April, new research has revealed.
Figures from Glass's showed that the French manufacturer's small crossover SUV spent an average of just 24.8 days on the forecourt before being snapped up by a customer. The vehicle came in first on a top 10 list which surprisingly featured the discontinued Rover 25 in second place (28.6 days) and the Nissan Qashqai in third place (28.7 days).
Although the turnaround from acquisition to sale with these vehicles is quick, it is still important that new business purchases are reflected in a company's motor trade insurance policy; firms must ensure the cover they have adequately covers all the vehicles they have on their forecourt, because if a trader has declared their stock of vehicles are worth less than they are to keep insurance costs down, then they could fail to be compensated.
Audi had four of its models on the top 10 list and Rupert Pontin, Glass's chief car editor, commented: "For Audi, this reaffirmation of the brand's popularity in the used market is very significant, bearing in mind the surge in new registrations over recent years. It shows there is a strong retail demand for the product, which is sure to help with residual values. I think the A1, which has jumped from eighth to fourth, could well be a future number one."
In terms of the worst selling vehicles last month, the research showed that the Mini Paceman spent an average of 96.1 days in a dealership before being sold. The Vauxhall Cascade, meanwhile, had an average selling time of 90.4 days.