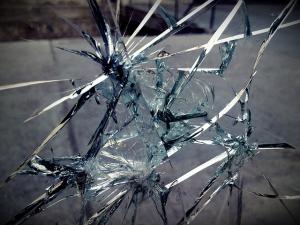 Police are investigating an incident at a Greenock garage where 'bullet-type' holes have been found in the showroom window.
After discovering the damage to the glass McMillan Motors staff reported it to the police. Initial investigations claimed that the three shot marks were caused by pellets, but upon further inspection the police believe the damage was caused by a sling-shot.
While the car dealership was lucky to escape with only slight damage, they will most likely still have to replace the glass. If, however, the company has combined motor trade insurance in place that protects not just the vehicles stored on site but also the building itself, damage such as this will be covered under their policy.
McMillan sales manager Ray Pascasio said: "Police are saying that it's possibly been from a sling-shot and are leaving it open as vandalism.
"It was discovered on Wednesday morning — there was no other damage, only a couple of marks on the window. There is the possibility it will have to be replaced."
It is believed that the incident occurred overnight on 2 October, and the police are appealing for information, the Greenock Telegraph reported.
Greenock Police Sergeant Allan O'Hare added: "Initially it was believed there were pellets used but there was nothing to substantiate that at the scene, inside the showroom or outside.
"Inquiries are at an early stage, at this time the incident is being treated as vandalism."