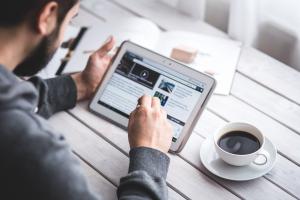 Close to a quarter of motorists are persuaded to buy a new car as the result of seeing an advert, new research shows, highlighting the importance of digital, TV and print promotions to UK dealerships.
The poll of 2,384 drivers by the Motor Ombudsman, the self-regulatory body for the UK's automotive industry, also found that male motorists and younger drivers are more likely to be swayed by commercial advertising.
Research last year by Auto Trader found car buyers now expect a 'digital forecourt' where they can make their car purchase decisions online, long before they enter a physical dealership.
The Ombudsman's survey, which canvassed motorists' buying experiences and satisfaction levels when visiting a franchise dealer, found 24 per cent of consumers are swayed in their choice of new car after seeing an advert online, in print or on TV.
Male buyers and 17 to 25 year-olds were found to be more inclined to take the plunge after seeing a commercial, whilst those approaching their thirties and motorists aged 40 to 55 less likely to act on impulse.
Bill Fennell, managing director of the Motor Ombudsman, said: "In today's digital era, consumers are never too far away from a brand encouraging them to buy a product."
The Auto Trader research found that today's car buyers spend on average nearly 11 hours online choosing the vehicle that's right for them, with twice as many hours now spent researching cars online as offline.
"This in turn leads to fewer forecourts visited than seen historically, so it is key that retailers advertise all their stock online – if it is not online, it is effectively not for sale," the research argued.
And with 72 per cent of automotive classified spend now online, it's crucial that dealerships invest in digital advertising, and offer digital buying products, to help grow their businesses.
Offering extra services helps buyers to gain a better understanding of how the cars they are interested in actually operate and look inside and out. Enhancing sales procedures in this kind of way helps to get buyers through the door and to engage them on another level. It's vital, however, to ensure that you update your motor trade insurance to include new technologies and equipment.