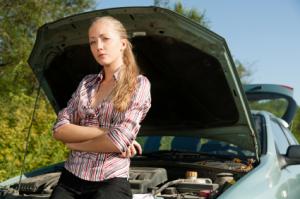 One in four women are not getting their car serviced because they are not confident in dealing with mechanics in garages, a new study has revealed.
According to a survey by the Institute of the Motor Industry (IMI), 22 per cent of women said they are reluctant to take their cars to a garage because they do not like the atmosphere – 25 per cent do not have their car serviced at all. Having a lack of knowledge of cars and feeling like they are being overcharged were among the reasons that women did not feel comfortable in garages.
The findings of the survey are worrying as it could lead to female drivers not addressing faults with their vehicles. While some women might not feel comfortable on site, it is essential that car garages have public liability cover as part of their motor trade insurance policy – this will offer protection to customers while they are on site in case they should suffer an accident.
IMI chief executive Steve Nash commented on the findings of the organisation's research: "Women drivers clearly feel they are in a precarious position as consumers in the motor industry and it's all about trust.
"There is a massive knowledge gap between the professional and the customer in this industry, and contrary to popular belief there is no government protection for them in the form of a licence to practice for the motor trade."