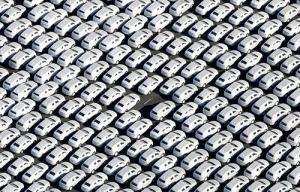 New car sales in Scotland fell 17.1 per cent in October compared with the same period in 2014, to a total of 13,459, according to new figures.
Data collected by the Society of Motor Manufacturers and Traders (SMMT) showed that the latest Scottish car sale figures contrasted significantly with figures from overall UK sales in October, which dropped just 1.1 per cent.
Sales figures often fluctuate based on trends and seasons, and most car dealers take steps to ensure they are prepared for changes in their business. Motor trade insurance policies and road risks insurance policies often require updating by car dealers as they ready their garage for different frequencies and types of sale throughout the year.
According to the SMMT, the current flotation in Scotland's sales figures is partly down to the Volkswagen group emissions scandal, which has see group sales fall by 16 per cent in Scotland. As a result of the controversy, sales of its Seat, Skoda and Volkswagen brands were all down, while Audi demonstrated a small level of growth.
In a statement, a representative from the Scottish Motor Trade Association stated that there were 'ongoing issues' surrounding the Volkswagen brands, which had impacted up on the Scottish car retail market.
They said: "We are however confident that VW Group through its excellent dealer network structure will resolve this situation given time to apply the manufacture reworks to affected vehicles."