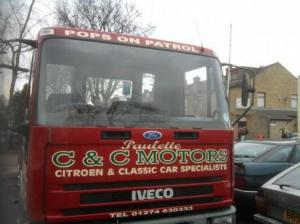 Thieves in Bradford have broken into a classic car garage and stolen a unique, specially built recovery truck from inside.
The truck had been designed for the Quarry House garage in Dudley Hill Road so it could carry the classic cars it works on, the Bradford Telegraph & Argus reported. Police say that a Skoda at the entrance to the repair workshop was used to ram the entrance, allowing the £5,000 truck to be driven away.
Stories such as this illustrate the value and importance of a combined motor trade insurance policy. This could cover the costs incurred through criminal activity – including damage to the building as well as stolen vehicles and equipment.
The incident took place last Friday (27 June) and caused damage to the Quarry House garage premises and the Skoda Fabia used to ram the gate. The recovery truck that was stolen has a sign on it in memory of garage owner Ray Calvert's father-in-law, John Caswell, who had helped with the business before his death, the police have said.
Sergeant Julie Murphy, of Bradford East Neighbourhood Policing Team, said: "Officers are making inquiries into CCTV in the vicinity but we would also ask anyone who saw anyone behaving suspiciously in the area around the time of the offence to make contact. The recovery truck is still outstanding."