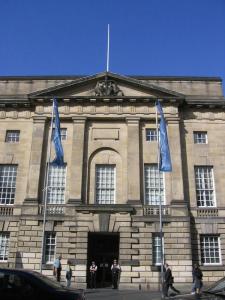 A mechanic in Kirkcaldy is awaiting sentencing after fatally injuring two women at a pedestrian crossing in a high speed crash.
James Clunie, 36, was driving a Land Rover Discovery 12mph above the 40mph speed limit when he hit and killed Jane MacDonald and Abby Hucknall. The car repairman, who has a history of other driving offences, was driving a replacement vehicle provided by his insurance company, Fife Today reported.
Mechanics will require a road risks insurance policy if they wish to drive customers' cars as part of their work. However, obtaining such a policy will be extremely difficult, if not impossible, if the individual has a history of speeding offences or driving bans – indeed, it should be noted that Mr Clunie's replacement vehicle was provided through his personal insurance policy, not from a road risks insurance broker.
Appearing at the High Court in Edinburgh (pictured), data was read out from a tracker device fitted in the 4×4; it revealed that in the five weeks prior to the fatal accident Mr Clunie had driven the car at 115mph and at treble the speed limit in a residential area.
Mr Clunie admitted to causing the death of the two women by careless driving on 27 November 2012, which carries a maximum sentence of five years in jail. He also admitted driving dangerously on various occasions between October 25 and November 27 in 2012.
The Judge Lord Turnbull adjourned the case until 1 December at the High Court in Glasgow for the preparation of a background report.