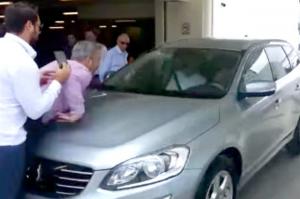 Staff at a car dealership in the Dominican Republic have narrowly escaped serious injury after being rammed into by a driver who believed their 'self-driving car' would automatically brake for them.
A video has emerged of salesmen at a Volvo dealership gathering for an unofficial safety test of Volvo XC60. As the driver accelerated towards the group of men, he believed the car would apply the brakes itself but it didn't, instead smashing into the car dealers, although thankfully none were seriously hurt. The video, which was intended to be used as a sale demonstration of the new car, has since received more than 3 million views online.
The video of the failed safety test demonstrates two things for car dealers with regards to their motor trade insurance policy. The first is that they must have a road risks insurance policy in place so they are insured when they get behind the wheel of potentially unfamiliar cars they are selling; and secondly, managers ought to have employer's liability cover as part of the combined motor trade insurance to offer financial protection to the business and members of staff in case an employee suffers an injury at work.
After the crash, a Volvo spokesperson said that the XC60 model does not have 'Pedestrian Detection', as the driver thought it did. Rather, the vehicle has a more basic form of self-driving technology – City Safety mode – which can only detect vehicles on the road and will brake if it thinks your about to drive into the back of one.
According to the YouTube channel for Remolacha.net, which is the Dominican news website that showed the incident, the two men who could not get out of the way of the car in time suffered only bruises.