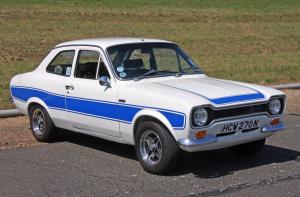 A classic car worth £120,000 stolen in a ram-raid back in March has still not been recovered, and police say they have followed up all leads in their investigation.
The Ford Escort Mexico, which was for sale, was taken from a showroom at Trackspeed Racing in Ripley, Surrey, in the break-in which was featured on the BBC1 programme Crimewatch.
You may or may not have high-value classics for sale at your dealership, but it remains a key part of your business administration to make sure you have motor trade insurance and road risks insurance policies that are adequate to cover all the vehicles on your premises, specific to their value.
In the case of the Surrey break-in, the thieves targeted the garage with a Land Rover Defender which was used to smash through the showroom's glass frontage. The raiders then attached chains to the Ford Escort Mexico and dragged it out of the showroom.
Since then, neither hide nor hair of the 1972 classic has been seen. The car is registration DAD 422K and has the number 27 painted on to the side of the vehicle.
Speaking at the time of the break-in, the car's owner Mark McCracken told Get Surrey that he believed the vehicle had been specifically targeted by the thieves.
He said: "Clearly, this was a professional and co-ordinated hit. There are eight other expensive cars in the showroom but they picked this individual one, which suggests it might have been stolen for order.
"The shell alone for this vehicle would cost around £80,000. Sometimes cars like mine are more valuable in component form than as a complete unit."
The police have admitted they are no nearer to recovering the classic vehicle.
A Surrey Police spokesman said: "There have been no arrests and the investigation team has now pursued all leads. The crime has therefore been filed pending any new information."