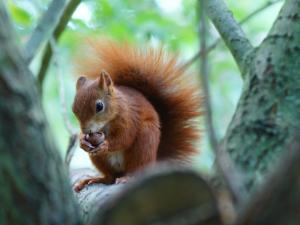 A mechanic has received an unexpected surprise while working under the bonnet of a customer's car as he found a huge supply of nuts.
The owner of a Honda Civic took her car to DPE Autosport in the Cotswolds when she couldn't get it to drive above 40mph. Garage owner David Evans ran a complete set of tests but couldn't find the source of the problem until he performed a full inspection of the engine, wherein he came across a squirrel's vast stash of nuts which were clogging an air filter.
Car mechanics will require a road risks insurance policy so they can collect, drop-off and drive customers' cars for testing purposes. From pesky animals to other dangerous drivers on the road, this insurance provides important cover in case there should be an accident while a mechanic is driving someone else's vehicle.
According to the Daily Mail, the squirrel had been stealing the nuts from a bird table in the car owner's garden and then storing them away inside her car. Mr Evans says he spent an hour sucking the nuts out of the air filter with a vacuum cleaner and collected enough to fill half a carrier bag.
Colleague Helen Plaister, who has worked at the car repair firm for five years, commented: "The lady whose car it is had obviously been feeding the birds and a squirrel had stashed them in the car … It was quite fascinating. When we took the air filter lid off we were just gobsmacked."