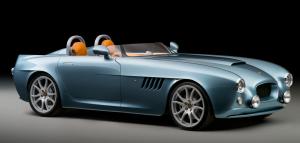 Premium UK car manufacturer Bristol Cars has unveiled its first new luxury model to celebrate its 70th anniversary this year.
The brand new Bristol Bullet is a gorgeous, hand-built two-seater sports car with a top speed of 155mph. The new model can accelerate from 0 to 62mph in only 3.8 seconds, so it's pretty nippy. Described by the manufacturer as a "sublime British sports car", the Bristol Bullet will retail for "under £250,000".
If you're thinking of adding more luxury models to your showroom or forecourt, then be sure to get a motor traders insurance quote to guarantee that your new stock is completely covered.
To keep the weight of the sports car as low as possible, the body has been constructed out of carbon fibre composites, which are said to give the vehicle strength and rigidity. The Bristol Bullet's engine, the V8 Hercules, is a model manufactured by German automaker BMW.
As for tech features, the Bristol Bullet has a touchscreen embedded in the dashboard, where owners will also find a button that gives them direct access to the company's West London showroom based in the upmarket area of Kensington.
Production of the new luxury sports car will begin early next year from Bristol Cars' factory in Chichester, West Sussex. The Bristol Bullet will be the first model that the company has manufactured since the two-seater Fighter model was unveiled in 2004.
Julian Ramshaw, the general manager of Bristol Cars, said of the new model: "The Bullet celebrates 70 years of design and innovation at Bristol Cars. This unique speedster sets the tone for the future of Bristol Cars — with a focus on luxury, performance and elegance. Open top, highly luxurious, lightweight and full of torque, it really is the ultimate driver's car."