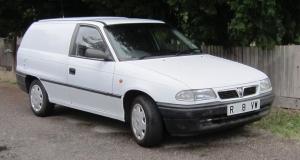 A garage owner has suffered from a cruel piece of misfortune as a van he had just bought set on fire shortly after.
Mark Stevens bought two vehicles and was towing them back to his premises in Bolton where he planned to repair them and sell them on. However, on the way back on the M66 one of the Astra vans caught on fire and was written off by the damage done by the flames.
Driving vehicles to and from the workshop is a standard practice for a car mechanic, whether it is a customer's car or a new purchase. To do so the mechanic will require a road risks insurance policy that will provide protection for the car while it is out on the roads – as with a commercial policy, this insurance ranges from fully comprehensive cover to third party cover.
According to The Bolton News, the incident involving the unlucky mechanic took place at around 8pm on Monday 23 February. The paper reported: "Fire crews from Bury and Ramsbottom attended the incident at about 8pm last night, and were on the scene for about 20 minutes."
Mr Stevens will have lost out on the value of his new purchase with the van now totally written off. To protect against damage or theft, a combined motor trade insurance policy will provide financial protection for assets stored at a garage, including vehicles, parts, equipment and the premises itself.