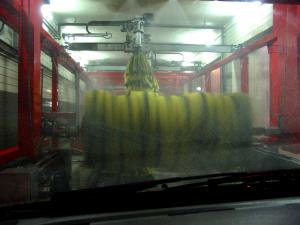 The vehicle of a customer at a garage in Peterborough has been written off by a faulty car wash.
Robert Nicholls, 42, had taken his father's Ford Focus to the car wash at the Murco garage in Lincoln Road for a quick clean. However, the automatic car wash malfunctioned and began to crush the vehicle with Mr Nicholls trapped inside, Peterborough Today reported.
As this unfortunate story illustrates, large pieces of machinery have the potential to do serious damage. That is why it is worthwhile a car garage obtaining engineering inspection cover as part of its combined motor trade insurance policy – this will see regular checks carried out on the equipment; if maintenance work is not required or is needed and duly carried out then the trader will not be liable in cases such as this. However, if the engineering inspection uncovers faults which are then not addressed then the business could find itself facing legal action.
In Mr Nicholls' case, the damage to his vehicle caused by the errant car wash was so great that his vehicle was written off. He recounted the incident: "Suddenly, I heard an explosion and the entire rear windscreen caved in. The brushes kept on moving over the car and I could still hear scratching sounds.
"Then the brushes came down the front of the car and the front windscreen just shattered. I was absolutely traumatised by the whole incident… I could not believe what was happening.
"I felt I was trapped in a horror movie. I could not get out of the car – I kept my hands on the horn but no one came out to see what was going on."
Mr Nicholls eventually slammed on the accelerator and drove out of the car wash. He says he is still waiting for an apology and explanation from the Murco garage, which has said nothing more than it is looking into the event.