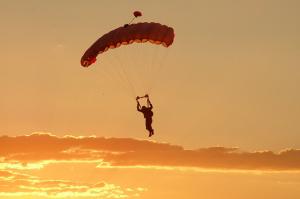 Forget road risks insurance, one car salesman in Cardiff is going to need to invest in a life insurance policy after announcing he is going to jump from a plane in the name of charity.
Matt Llewelyn Jones, who works at Wessex Garages in the Welsh capital, has announced he will be completing a skydive on 6 September to raise money for George Thomas Hospice Care. Strapped to an experienced skydiver, the 24-year-old car seller will take off from Swansea Airport before leaping from a height of 12,000 feet, Car Dealer Magazine reported.
When driving around the company's cars for test driving or logistical purposes, the salesman will require a road risks insurance policy to provide cover for the vehicles while he is behind the wheel. However, free falling from a plane poses a whole new set of risks, but Mr Jones is relishing the opportunity.
He said: "I've been meaning to do a charity skydive for years and I'm very excited. I'm not scared of heights but I'm sure I'll feel differently when I'm up there.
"I will be raising money for our dealership's chosen charity of the year at the same time. George Thomas Hospice Care provides specialist home-based palliative care for people suffering from cancer and other life-threatening illnesses."
A spokesperson from George Thomas Hospice Care said the charity was "thrilled" by Mr Jones' fundraising efforts, adding: "We wish him all the best."