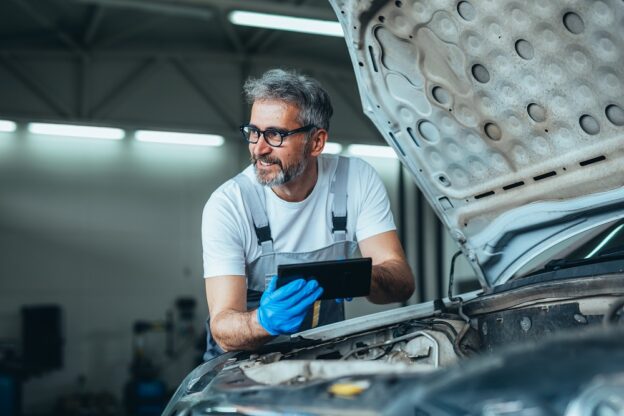 It's no secret that prices are rising throughout the UK. The cost of living is increasing immensely across every sector, partly due to the knock-on effects of COVID-19. And the motor trade industry is no exception.
A June 2022 ONS report revealed that petrol prices jumped by 20p a litre between January and May 2022 — a significant increase of 33p since the end of COVID restrictions last July [1]. It's not just petrol prices that skyrocketed either; maintenance costs for motor vehicles soared by 6.9% in the last year [2]. So, what impact is inflation having on the motor trade? Are costs set to rise even further in the future? Can the motor industry keep up, or will businesses be forced to stop trading?
We surveyed over 300 UK-based motor trade professionals to understand how the current cost of living and inflation crisis is impacting the industry. We then analysed the data to provide a snapshot of the challenges in the automotive industry, and what the near future could look like if trends continue.
Challenges facing the motor trade industry
Businesses across the automotive industry are feeling the effects of inflation, and many are worried that costs are set to rise further. 40% of people surveyed think inflation will get worse within the next six months, while only 27% believe costs will become more manageable in the future.
As for the severity, 84% of respondents said they're experiencing 'serious' challenges, and a further 36% agreed it is 'very serious'. Less than a fifth of respondents said these challenges were 'not serious', indicating how fearful people are of inflation.
Business growth was highlighted as one of the most common inflation challenges, suggesting that many automotive businesses are worried about the future of their trade. In particular:
39% think their business will struggle due to increased inflation, with 10% expecting their business to close.
29% believe their business will remain stagnant, staying in its current state.
Numerous professionals were also surprised by the lack of government support available to help their businesses with growing costs. A majority (75%) of respondents felt the government could do more to support the motor trade industry. Yet, a significant number of people (60%) were unaware of any schemes available to help their workplace through the cost-of-living crisis.
Some respondents are even considering changing their trade:
52% are considering changing their trade due to the impact of inflation on their professional and personal life.
50% are considering changing industry due to the effects of inflation on their professional and personal life.
It's concerning that many professionals said that the fear of inflation is affecting their mental health. In fact, almost half (47%) of motor trade professionals have sought mental health support over the past six months due to these worries. It's clear there's work to be done — not just to support businesses, but to support people on a personal level, too.
Rising costs
The entire supply chain is taking a hit, forcing many businesses to raise their prices for customers. Across the board, enterprises have increased prices by an average of 17% due to higher business costs.
Our survey highlights that 83% of respondents have seen an increase in petrol prices, leading to an average of 22% increase in business costs — the highest of all categories. A further 79% have seen a rise in new car prices, adding business costs of 15%.
But costs are also rising across other categories:
73% have seen vehicle parts increase.
78% have seen utility costs increase.
69% have seen equipment costs increase.
66% have seen used car prices increase.
67% have seen vehicle rental prices increase.
Taking action
Many businesses are taking matters into their own hands to tackle inflation. Although the most popular approach is to increase prices, a high percentage of respondents are trying other tactics:
86% are switching to cheaper suppliers, with 44% already doing so.
66% are cutting their workforce.
82% are increasing their marketing spend to reach more customers.
66% are reducing trading hours.
Unfortunately, inflation is forcing many businesses to cut their workforce and working hours.
Our survey revealed that with fewer people working, consumers are finding ways to reduce spending:
73% said customers mentioned the cost of living and inflation when discussing their options around motor-related expenditure.
69% said customers mentioned the cost of living and inflation, causing them to spend less on vehicle vanity/aesthetics.
73% said customers are downgrading their cars due to the cost of living and inflation.
The future of the motor trade industry
The cost of living is having a drastic impact on all areas of our lives. The motor trade industry, in particular, is suffering from rapidly increasing prices throughout the supply chain, forcing many to rethink their business strategies or leave the trade altogether.
And it's not just inflation that's changing the automotive industry. Brexit is influencing decision-making for many businesses and damaging product lines for global manufacturers, reducing the availability of materials and vehicles throughout the sector.
No one knows what the future holds just yet. But it seems many automotive businesses will make more significant changes in the next six months to help cut overheads, whether or not costs keep rising.
Sources:
[1]
Ave price or petrol, per litre
[2]
Maintenance of motor vehicles – percentage change over 12 months