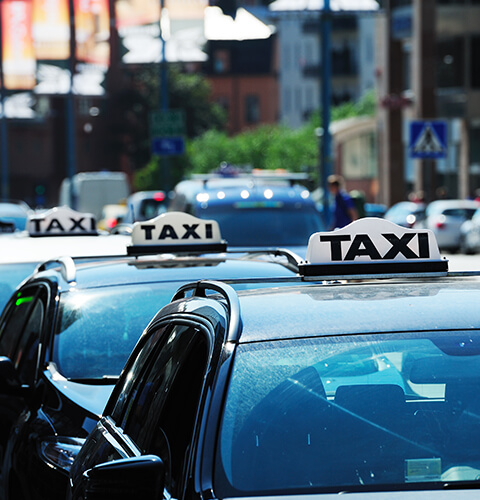 We've put together some of the most commonly asked taxi insurance questions, answering with some quick and easy advice for you to follow.
Taxi drivers want to know about no-claims bonus, how to budget to keep the costs of payment affordable, and which drivers can be covered on their policy, amongst other things.
Here are some of the most frequently asked questions for our team at ChoiceQuote:
Can I get a policy where I don't drive?
Yes, we can arrange policies where the proposer is excluded from driving and list a named driver on the policy. This might be where you own a vehicle and employ a driver to work for you, for example.
Does a taxi policy include driving other cars?
No – your taxi insurance policy only provides cover for the vehicle(s) listed, and not for driving other vehicles. You will need separate insurance for these.
Can driver changes be made during the policy?
Yes, you can change the policy details during your cover period. Not only can you change the driver, you can change cover details and the vehicle covered.
Can young/older taxi drivers be covered?
Yes. ChoiceQuote can arrange cover for drivers between the ages of 23 and 75 on our standard schemes and can potentially cover younger or older drivers based on their individual circumstances. Give us a call for more information.
Are there benefits to having a camera fitted in my taxi?
Yes, having cameras fitted in your vehicle can help with insurance claims, as they independently verify what has happened. Additionally, some cameras can record G-force at the point of an impact, which can help to rebuff fraudulent personal injury claims by showing the real impact of an incident, for example. For taxi fleets, we can help with telematics – speak to our team for more information.
Do your policies include public liability insurance?
Most taxi insurance policies include public liability insurance, so the requirements of local authorities are met. We can also sell standalone public liability insurance should it be needed. Again, we can let you know what is covered when we provide a quote for your taxi insurance.
Is windscreen cover included?
Yes, provided you buy comprehensive cover (as opposed to third-party only or third-party fire and theft), you will automatically get windscreen cover, though usually with a reduced policy excess.  Windscreen claims do not affect no claims bonus at renewal.
Can my spouse drive my taxi for social, domestic and pleasure use?
Most taxi insurers that we deal with will allow the spouse to drive on the taxi policy for social, domestic and pleasure purposes, generally with no additional charge. However, there are several councils throughout the UK – mainly in the larger cities and surrounding councils – that do not allow non-badged drivers to drive a plated vehicle.
Can I transfer my private car no-claims bonus to my taxi?
This is something that has changed in the taxi market over the years. Generally, taxi insurers will only allow no-claims bonus earned on a taxi policy to be applied to a taxi policy. Within our panel of insurers, we have specific deals where they will allow introductory discount because you have built up your private car no-claims bonus.
Can I pay in monthly instalments?
We offer an instalment facility on all our taxi policies. This can help you budget more effectively. Ask us for more details.
Getting the right cover at the right price
Whether you are an existing policyholder looking to amend or add cover to your policy, or you're looking for a new quote or to move insurance provider, please give us a call on 01625 400201.