Baptism of the new 2007 Triumph Tiger 1050
Traditionally when a new child arrives, a baptism with water is called for and Triumph has now given birth to the all new Triumph Tiger. In late November we tested the new arrival and right on cue, the great British weather duly obliged with a week of lashing rain and howling gales. The Triumph name is one of motorcycling legend and tradition and so it was fitting that we gave the new Tiger a wet weather baptism!

Triumph's new Tiger 1050 by the Bridgewater Canal
The new arrival
The Triumph Tiger has a distinguished blood-line dating back to 1994 and has built up a strong following as multi-purpose, dependable, mile-muncher with some off road capability. However Triumph say that customer surveys have shown that existing Tiger owners rarely take their bikes off road, so a completely new style of Tiger has been bred for 2007. Gone are the knobbly tyres, hand guards and sump protector and in its place is svelte new looks and with firmly
Now new arrivals are usually met with admiring looks on public outings and the Triumph Tiger was no exception. Our Tiger's striking Caspian Blue paintwork and upswept exhaust, rakish front fairing and screen, where met with admiring looks and positive comment on its new appearance, wherever we took the bike.
The old Tiger's looks were becoming dated and Triumphs have addressed this with a bike that in our eyes has styling that gives it both a sporting and purposeful look at the same time.
But looks are only skin deep and we were eager to know what this new baby felt like and even more importantly performed like?
Development
Much anticipated in this new Tiger has been the arrival of the 1050cc triple engine, also much beloved in the existing Speed Triple and Sprint ST. Now our bike had not long left the warmth of its factory birth and only had some 500 miles of initial toddling on the clock, so combined with the appalling weather conditions this meant we had to treat the engine and its performance output with some care.
Triumph claim a power output of 114bhp with a healthy torque output of 74ftlb combined with a fully developed weight of 198kg. Now either this Triumph had left the factory with some bits missing which obviously it hadn't, or somehow the Triumph engineers have done a miraculous job at hiding weight; because on riding the bike it felt 20kgs lighter than that.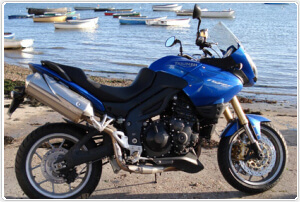 A day out in the Cotswolds for Triumph's new arrival
Some of the weight loss might be attributed to the fuel tank capacity which is reduced by 4 litres, but the tank itself is steel not plastic, which weighs more!
A good bone structure is essential for healthy development and Triumph has obliged with an aluminium beam perimeter frame with an aesthetically pleasing braced, twin-sided, aluminium alloy swing arm all set off on a pair of cast multi spoke wheels.
A good chassis needs to be combined with a suppleness of movement and again the Triumph engineers have obliged by fitted the bike with 43mm upside down forks with adjustable preload, rebound and compression damping adjustment and monoshock rear suspension with adjustable preload and rebound damping.
Every child needs good shoes and the Triumph Tiger 150 was fitted with Michelin Pilot Road S tyres in sizes 120/70 ZR 17 (front) and 180/55 ZR 17 (rear).
Good eyesight is a prerequisite for survival and the Tiger's eyes are twin ones in the front of the headlight fairing, with one light for permanent dip beam and one for high beam.
Clothes, well this new arrival is basically naked except for a small headlight fairing and raked screen.
Behaviour
Taking a youngster out on its first outing can be a trying experience, will it behave or will it show you up and any youngster is apt to misbehave when you subject them to seven days of outings in the pouring rain, cold and wind, but what surprised us is just how well behaved this new bike is.

The Tiger 1050 on wet leaf mould strewn roads
No matter what the English weather threw at this bike it just sailed through it all and even shouted back "Bring on more!" The handling is best described as fluid, riding the bike everything just flows, akin to flowing water, which is just as well as that's all we saw all week. It glides over most road surfaces without so much as a ripple and its quickness of turn and lightning reactions enable rider and bike to navigate any course with ease and nimbleness. I'm sure in dry conditions the bikes handling would be the match for many a devoted sports bike and even outshine some, we'd have loved to have tried it if the weather would have let us!
However the bike has no off road abilities at all, being shod with road tyres, which for the most part did the handling and suspension credit, if we were to find a fault, it was the tyres could be twitchy in the wet on poor road surfaces and obstacles, such wet over-banding, drain covers and road markings; but then your not supposed to ride on them in the wet anyway!
The suspension admirably soaked up everything that 500 miles plus of wet weather riding could throw at it, only being caught out on comfort grounds alone by the odd short sharp road bump. The bike is very stable and surprisingly did not seem to be as affected by crosswinds as some bikes we've ridden.
It's a bike you instantly feel at ease on, aided considerably by the comfort of ride and riding position the bike offers. The Triumph engineers have worked hard on the ergonomics of this new Tiger; the seat is sculpted so you sit in it and extends forward up the face of the tank, whilst your knees grip the sides of the bike on to panels which complement the lines of the seat. These are plastic, we would have preferred a grippier material as when you and you bike gear is wet, your knees can tend to slip on the wet plastic. The seat is well padded and several long days in the saddle resulted in no aches or pains. The foot pegs, brake pedal and gear lever are all well placed resulting in no physical contortions. The bars offer an upright riding position and although it has a small headlamp fairing and screen, we did suffer from some wind draught over the top of the screen, though this was a clear stream of air with no buffeting. Shorter riders should have no issue; I'm 6ft 3, and a taller screen is available as an option. The screen and fairing did however help provide a modicum of weather protection. The Tiger is still a tall bike though with an 853mm seat height, which may not be suited to all.
Now one key element of behaviour is performance and the new Tiger does not disappoint. The Triumph triple engine is the real heart and soul of this bike, fed through a six speed gear box. The sound of the triple engine is unique and addictive and is helped by an exhaust which apparently has been optimised to fully appreciate the triple sound.
Even with only some 500 miles on the clock the engine exhibited no snatchiness at all. The bike has bags of torque and will pull from low revs even in sixth. The engine spins up very quickly which can lead to deceptively faster riding, with power available right throughout the rev range.
Though on wet leaf mould strewn roads, we had to be careful just how quickly we used the available performance; 4,000 RMP in sixth gear equated to approximately 66 MPH, the bike red lines at 10,000 RPM, so we'll leave you to work the maths out.
The gear ratios are proportioned so as to enable you to take maximum advantage of the bikes performance in any chosen gear, though on our new bike the action of the gear change was very positive; we suspect this is down to the lack of miles the bike had done; but gear changing is enhanced by the light action of the clutch.
We were grateful for the ample engine braking from this triple engine given the slipperiness of the road conditions (ABS will be an available option in 2007). However when we did need braking, the twin four piston radial callipers on the front and the rear single twin-piston calliper provided ample stopping power. The rear brake used on its own is a little soft, but this proved a blessing in the wet conditions.
The flexibility of the triple engine combined with the chassis and suspension set up and overall comfort means this is a bike that you can cover some serious distances on. The old Tiger was praised for being an all-rounder and the new Tiger fits the all rounder ticket as well. From tourer, commuter to sports bike such is the set-up and performance of this bike; we feel it will happily slip into any of the roles with the performance and handling to match. Whether we were filtering through heavy London traffic, riding through the back road twisties or covering distance on A roads and motorways, the Tiger rose to the challenge.
Diet
Our Tiger like most bikes these days likes a diet of unleaded fuel to fill its 20 litre tanks. However it is no glutton and we managed an average of 47 MPG throughout our very mixed road riding tests. This provides the bike with a potential range of just over 200 miles, which means the bike has a long-distance touring capability. We know it was 47 MPG because for the gadget minded rider this bike has a comprehensive digital display information unit alongside its analogue rev counter with inbuilt digital speedo.
Word of warning, the information unit displays and holds the top speed you've ridden the bike at until you clear it down, great for impressing your mates, but not the boys in blue!
The Tiger needs a service every 6,000 miles, with the first being an interim and a major at 12,000 miles a year which ever comes first. A typical interim service should be in the region of £140 and a major £240, but obviously replacement pads, chains and sprockets etc., would be additional. Service costs are also dependent on how the bike is ridden and the dealer labour rates in your home area.
It's too early to tell how often this model will need new rubber, but other Triumphs in the range with the 1050 engines can see 6,000 miles on a rear and 12,000 on a front.
The future looks bright for this new Tiger. Once people accept it's lost the off road ability the old Tiger had (which few used) and accept that it is a much improved all rounder. It offers class leading comfort and handling and with the 1050cc triple engine at its heart, it's sure to build up the same loyal following the old Tiger had.
Article and Photos by Jon Booth – www.inter-bike.co.uk – The UK Biker Site. Note all performance figures, weights and technical specifications are as claimed by the respective manufacturers
Sponsor: ChoiceQuote Motorbike Insurance – Cheaper Motorcycle Insurance Cover.
Thanks to North City Triumph for the loan of the Tiger 1050