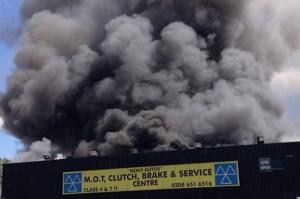 An explosion at a car garage in Surrey has left one man seriously injured and the building in tatters.
Nearby houses felt the ground shake from the blast at Ken's Autos in Limpsfield Road, Sanderstead yesterday morning (11 June). The car workshop went up in flames and smoke as one man in his 30s, who was waiting for his vehicle to be repaired, had to be rushed to hospital with burns to his face and arms.
Dramatic incidents such as this are a risk within the motor trade industry where machinery and petrol are prevalent. It is for this reason that it is of paramount importance that firms obtain a comprehensive combined motor trade insurance policy.
Not only would this provide cover for the business premises as well as the vehicles and equipment on site but, crucially it could also offer cover to employees and customers. Should you acquire employer's liability and public liability insurance as part of a combined policy, you can protect yourself from incurring large costs as a result of accidents like this which could leave staff or members of the public injured.
Six fire engines and 35 firefighters from Croydon, Purley and Addington, as well as the air ambulance, were sent to the scene following the explosion. The injured customer was taken to the major trauma centre at St George's Hospital, in Tooting.
It is the second time there has been a serious fire at this branch of Ken's Autos in the last six months, the Croydon Advertiser reported. The blaze in January destroyed a car and damaged part of the garage but no one was hurt.